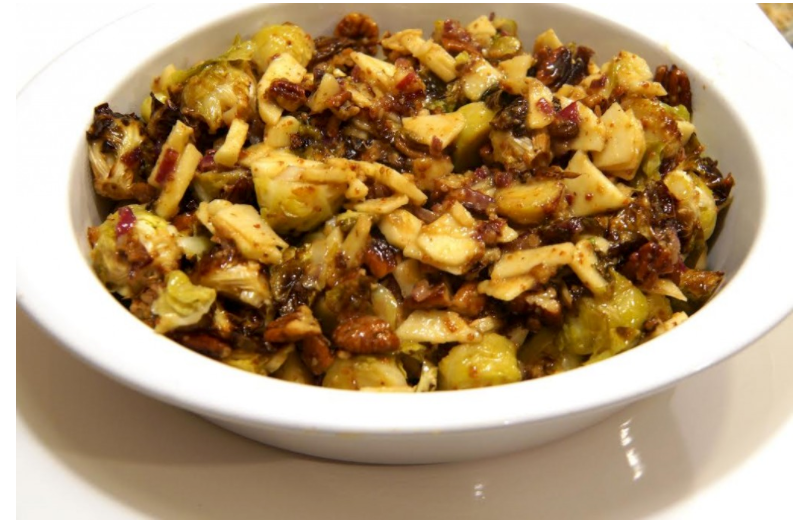 INGREDIENTS
For the Sauce
¼ cup Dijon mustard
2 Tbs Whole Grain Mustard
1 ½ tsp apple cider vinegar
2 Tbs light brown sugar
1/8 tsp Savory Accents Hot Sauce
For the Salad
Caramelized shallots
1 Tbs Sherry Vinegar
5 Tbs. olive oil
Salt and freshly ground pepper to taste
1 lb. Brussel sprouts trimmed and quartered (roasted)
1 cup walnuts toasted
1 ½ red apples, such as Fuji or Gala cored and thinly sliced
INSTRUCTIONS
To make the sauce, in a bowl, whisk both mustards, vinegar, brown sugar and hot sauce.  Reserve 2 Tbs. sauce for the salad; refrigerate the rest for up to 4 weeks.
To make the salad, in a large bowl, whisk the caramelized shallots, vinegar, the 2 Tbs. remaining sauce, 3 Tbs. of the olive oil, salt and pepper.
Spread Brussel sprouts out on cookie sheet and drizzle with olive oil, roast until browned and tender, about 15 minutes.  Transfer to the bowl with the vinaigrette, add the walnuts and apples and  toss.  Season with salt and pepper.